The Mexican stylist Ivan Rodríguez was one of the selected few to style the participants in the Miss Universe Contest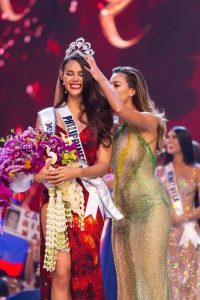 Ninety-four women, the most beautiful in the world came together to represent each of their respective countries during the three-week pageant. The contestants proudly wore colourful sashes displaying their country's name and so Jessica, Laura and Angela became Miss Jamaica, Miss Puerto Rico and Miss Canada.
Surrounded by spectacular women, chosen for their beauty and talent, the MISS UNIVERSE competition was an intensely emotional event. An unforgettable and challenging experience creating perfection whilst working against the clock. Everyone highly-charged by the limited time and the tension that accompany a program televised 100% live and direct. The contestants left a lasting impression on me for their kindness, smiles, humour, elegance, and complete focus despite the nerves and media pressure each must have felt.
"They trust in my hands to work with their natural hair to achieve flawlessness so they can move freely on the stage". The surprise this year, however, was how many contestants including numerous finalists were inspired by the Pocahontas image. A look that stood out for its straight, symmetrical style and centre parting. Other styles also popular included pony tails, closed curls and the classic pixie hairstyles.
With a backdrop of skyscrapers and Buddhist temples. Thousands of Thais and visitors from all over the world came together at the IMPACT ARENA BANGKOK on December 16. An impressive sight by itself made even more so by the crowning of Miss Philippines Catriona Gray, as the new Miss Universe.